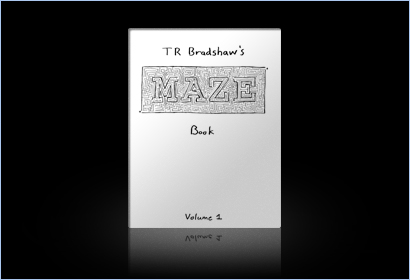 A new collection of mazes is available from T. R. Bradshaw. Each maze was drawn by hand (as opposed to created by computer) and scanned into this book. All that remains is for someone to solve them all!
Most of these mazes are straightforward: enter by the in-arrow and exit by the out-arrow. Some mazes include special secrets, like keys you must collect in order to escape. These mazes come in various shapes and sizes and levels of difficulty; start off with the easy ones, and then tackle the trickier ones when you're brave enough.
Happy maze travelling!
* Now available at Amazon!
Blog
created January 19, 2013 10:32 AM
I finally finished my new maze book, and now you can buy it from Lulu.com! It took a while to hand-draw all these mazes, scan them in, clean them up, and then put them all together, . . .
Projects
A new blog for beginners wanting to learn computer programming. Starts with the basics of Python and works its way up.
News
T R Bradshaw's Maze Book Volume 1 now on Amazon!
T R Bradshaw's Maze Book Volume 1 is now available!
Tile Cascade App is now available for FREE!